Sienna – Adopting an Adult Dog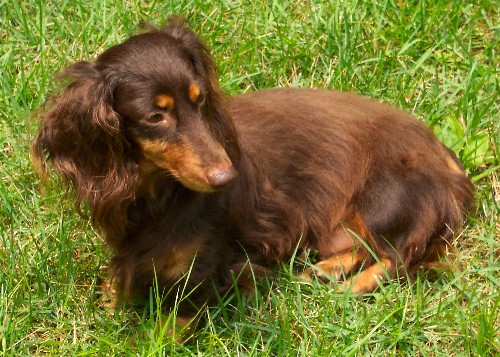 Sienna, a few days after her arrival in June 2004
Written by Gerri O'Neill, September 2004


When Michele asked me to write an article about adopting an adult dog, I told her that I didn't think that I was the best candidate, since most everything had gone so smoothly. There had been none of the usual problems that you hear about, like soiling or troubles adapting. However, she convinced me that our positive experience might help other adult dogs to find good homes.

In late March of this year, we found the Terragethen website and fell in love with an adorable litter of smooth dachshund puppies that had been born just 4 days before. Within minutes, I had phoned Michele and told her that we would like to have one of the 2 females. Within hours, we had decided that we wanted both of them and so, Chloe [Black and Tan] and Pumpkin [Chocolate and Tan] [aka "The Munchkins"] became future members of our family.

Sometime later, when we found out that their mother, Sienna, was available for adoption, we asked Michele if she would consider allowing us to adopt her. Because we live in New Jersey, we technically didn't 'qualify' since 1. Michele generally didn't ship adults, 2. we couldn't meet Sienna before the adoption and 3. there could be no home inspection. But we very much wanted her and all of us liked the idea of Sienna spending her 'retirement' with her children. So after thinking it over, she said 'yes'. The wait was excruciating and believe me, we were just as excited at the prospect of getting Sienna as we were about Chloe and Pumpkin!

The Munchkins arrived in late May. We had, of course, bought them tons of new things [kennel, toys, bed, toys, leashes and collars, toys, more toys!] and had a blast doing it. With Sienna due to arrive a few weeks later [after being spayed], we had the fun of buying for her next. And, yes, it was just as much fun buying for her as it was for the puppies. She got a cute little leash and matching collar, a new bed and bowl [both with doxies all over them], lots of chewys and biscuits, etc. And, by the way, all of these things [except the edibles!] are still in mint condition. While Sienna sleeps in her little bed, the Munchkins are busy eating theirs – two of them so far. Plus 2 collars, one carrier, the kitchen table and chairs, the kitchen cabinets, 2 doors and the wallpaper! The only thing Sienna has noshed on has been the mail. And as long as she keeps eating only the junk mail, that's fine with us!

Sienna arrived exactly 3 weeks after Chloe and Pumpkin. Maybe it was because of the plane ride, the hour-long wait on the tarmac, the bumpy ride thru the terminal or the long trip down the Jersey Turnpike, but that first night didn't go exactly as I'd expected. Somehow, I'd envisioned us being soul mates from the moment we met, with our first meeting like something out of a movie: I saw us running towards each other [in slow motion], my arms outstretched, through a field of golden wheat. Okay, you can stop laughing now!

Actually, she did lick my fingers at the airport. And she let Mom pat her head in the car [although she gave her some dark looks.] But after we pulled into the driveway, Mom went in to take care of the Munchkins and I sat down very quietly in the back seat with her. She took one look at me and started growling. I was crushed.

Her first night was difficult, more so for her than for us, I'm sure. She was skittish and stuck close to her carrier, which we had carried from the car into the living room [with her still in it]. She came out several times to look around, but would scurry back in as soon as we came too near. She seemed curious when she heard Chloe and Pumpkin, but we decided that she was too upset to 'meet' them that night.

By the next morning, she was allowing us to pet her and hand-feed her. Then it was time for her to be reintroduced to the Munchkins. Sienna was still entrenched in the safety of the carrier, so we placed Chloe on the floor in front of it. She hopped right in with Sienna and then proceeded to bounce all over her. We held our breaths, but Sienna didn't mind at all. Then we let Pumpkin join the fun. Not a problem. She seemed very happy to see both of them, and very protective, and kept barking at us whenever we'd pick her babies up. But she soon grew to trust us and settled in and made herself at home. Within two days, she was greeting us [a little shyly, at first] right along with the pups.

Throughout the first two nights, she barked and barked. We had no clue what she wanted. We tried feeding her, comforting her, taking her out, etc. The latter was especially interesting since there we stood at 4AM, while she barked her head off and I tried to hide in between the bushes so that the neighbors wouldn't know it was our dog making all that noise! The problem was solved when Michele mentioned that she wouldn't go outside in the dark and we realized that poor Sienna is afraid of the dark. Since then, we've left a night light on for her and she's slept like a log!

Sienna is the second adult dog that we adopted, so I'm hardly an expert. But both experiences have been successful, although brought about by different circumstances. Our first adoptee, 8½ year-old Chippy [Cockapoo Mom and large, unknown Dad], was my uncles' dog. When they both died, he came to live with us. So he already knew us, which hopefully eased the trauma of losing 2 'Fathers' and moving twice within 2 years. He adapted well and lived another 6 years with us.

With an adult dog, you still have all the 'firsts' and they're still a thrill. I can't wait to take Sienna's picture by the tree when we celebrate our first Christmas together. And just imagine her reaction when our little former Floridian first sees snow! And I was just as proud and excited the first time we went to the vet's together as I was with Chloe and Pumpkin. We've had all the 'firsts', even though she's not a puppy, and no housebreaking! And although she doesn't play like a puppy, she has cute little habits, like trotting around with up to 3 chewy sticks in her mouth, each sticking out in a different direction.

Sienna had never been on a leash before she arrived, so that made for an interesting 'first'. The first few times that I put her new collar and leash on her, she sat down and just looked at me. She wouldn't move, no matter how much I begged and cajoled her. But she adapted quickly and now acts like she's worn them all her life.

Sienna is a beautiful dog, both inside and out. She has proven to be a sweet and loving and we consider ourselves extremely lucky to have her. And we couldn't ask for a nicer disposition. She's gentle and placid and amazingly tolerant of the Munchkins, even when they're jumping on her head or pulling her ears. She never bats an eye when they [mainly Pumpkin] take chewys or biscuits right out of her mouth. And she chooses most times to be with them, instead of being off by herself. At night, they all sleep together as closely as possible. Recently, when the pups were spayed and stayed overnight at the vet's, she was miserable without them and barked and cried for most of the night. When they came home, she hovered around their carriers and slept beside them since they couldn't all be together.

I may never have had my "golden wheat" moment, but I took it as a sign that Sienna wanted to stay with us when she ate the Continental Frequent Flyers letter. Hopefully, that was her way of telling us that she loved us as much as we love her.


Content copyright © 2005 by Gerri O'Neill. All rights reserved. This content was written by Gerri O'Neill. If you wish to use this content in any manner, you need written permission. Please contact Gerri O'Neill for details. Originally published in the Terragethen Newsletter, October 2004.
Main Menu Home





This Page Was Updated On February 27, 2008


Free JavaScripts provided
by The JavaScript Source